Customer service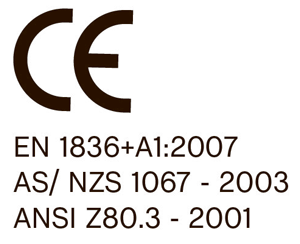 This product conforms to European Directive 89/686/EEC in according to European Standard EN 1836+A1:2007, (sunglasses filters for general use).
Category 0:
Aesthetic comfort.
Category 1:
Softened sunlight.
Category 2:
Not intense sunlight.
Category 3:
Intense sunlight.
Category 4:
Very intense sunlight. Not appropriate for any drivers.
• To know your sunglasses category, look at the table below.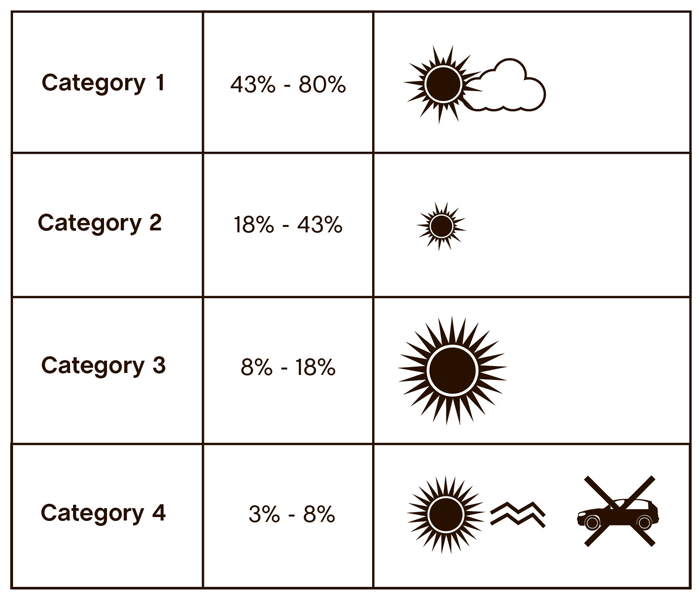 In according to European Standard, Rusty uses filter for lenses Category 3 (82/91% absortion of light).
100% PROTECTION UV.
CUSTOM SERVICE
Argentina 0-810-444-5233
Rusty products are warranted against breakage due to defects in material or workmanship for one year from the date of purchase.
This warranty is applied only by bringing a dated receipt which indicates the authorized store. If Rusty finds that the breakage of product was due to a defect in material or workmanship, the product or the damage part will be replaced by the same item, of the same color, with no additional charge.
In case that the corresponding product is not immediately available, a list of alternative models to choose from will be made available for fast delivery.
Before returning warranted sunglasses for any change or repair, please contact This email address is being protected from spambots. You need JavaScript enabled to view it..
Do not clean the lenses with alcohol or washing-up liquids, as well as abrasive or dirty materials.
Scratched lenses are considered normal wear and are not covered under warranty.
Rusty products will be repaired with an additional charge even if the warranty will be expired.
We will provide you with the exchange / repair of your damaged eyeglasses within 40 days from product delivery.
For any additional information about this warranty, please contact an authorized store or send an email to This email address is being protected from spambots. You need JavaScript enabled to view it.
EXTENDED WARRANTY
To get an extra 6 months warranty (to 18 months), please visit www.rustyoptical.com, "Extended Warranty", and fill out the form.
Public Health Office: 02-000020/ Neutral filter lens for everyday sun protection. Technical Director Quality Control: Silvia Del Luján Centeno – ENROLLMENT NUMBER: 2306
"For those who are prescribed distance vision corrective eyewear it is recommended not to use sunglasses lenses because they are neutral. It is suggested an ophthalmologic monitoring if the use of them becomes strenuous and / or in the presence of other vision disorders. For adjustment problems consult an ophthalmologist."